Expert Articles & Advice
April 15, 2014
We all know that the deck is the place to be when it comes to barbecuing and relaxing in the sun. With all of the time and money invested in your deck, doesn't it make sense to enjoy it as often as possible?
April 1, 2014
Sitting around the fire. It's a tradition that goes back further than recorded history and is one that has endured for many reasons. The simplest of which is that it's just plain relaxing.
Special Offers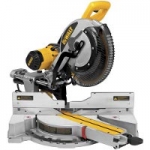 Now when you buy the DeWalt 12" Compound Sliding Miter saw DWS780, you'll get the DeWalt Universal Miter saw stand DWX723 for FREE!
Valid 3/27 - 4/30/2014
Impact Ready - Impact Driver Accessories
Find out the real story on why DEWALT's Impact Ready Drill Bits outlast the competition and allow you to drill more efficiently and in materials previously not possible.